Artificial intelligence (AI) has quickly become an essential tool for businesses in various industries. One sector that could greatly benefit from AI-generated videos is the automotive industry, specifically Honda and Toyota new car dealers. By leveraging AI technology, these dealers can enhance their marketing strategies and ultimately drive more car sales with AI-generated video commercials.
AI-generated video commercials have the ability to create visually appealing and personalized content, which can captivate potential customers and increase their interest in Honda and Toyota vehicles. These videos can be used to showcase the unique features, performance, and benefits of the cars in a dynamic and engaging manner. Below is a YouTube video for a Toyota Yaris Cross, which is not sold in the U.S. but in other countries.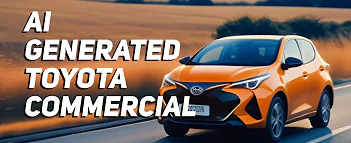 One way that dealers could employ AI-generated videos is through personalized virtual test drives. Using AI technology, customers can virtually experience Honda and Toyota cars on their own terms, allowing them to explore the vehicle's features, interiors, and driving experience from the comfort of their homes. This immersive experience can significantly influence potential buyers and help them make more informed decisions.
Furthermore, AI-generated videos can provide customers with detailed and accurate specifications of various models. By incorporating AI-generated visuals into online product listings, car dealers can give potential buyers a realistic representation of the vehicle, making it easier for them to compare different models and make a purchase decision.
AI technology can also enhance the customer interaction process. Chatbots, powered by AI, can be programmed to provide instant responses to customer queries, allowing dealers to engage with potential buyers 24/7. These chatbots can provide information about specific features, pricing, financing options, and even schedule test drives, making the car-buying process more convenient and efficient for customers.
Additionally, AI-generated videos can be utilized for targeted marketing campaigns. By analyzing customer data and preferences, Honda and Toyota dealers can create tailored videos that cater to specific demographics or niches. For example, a video highlighting family-friendly features could target parents, while a video showcasing eco-friendly aspects may attract environmentally conscious buyers. This personalized approach can significantly increase the chances of generating leads and converting them into car sales.
In conclusion, AI-generated videos offer immense potential for Honda and Toyota new car dealers to attract more customers and facilitate car sales. By utilizing personalized virtual test drives, providing accurate product specifications, enhancing customer interaction, and implementing targeted marketing campaigns, dealers can enhance their marketing strategies and drive more sales in a competitive automotive market.
After the AI-videos and build up, follow up with informative third-party videos, like those from VehiclesTEST.com.
Let your customers take a Virtual Test Drive right on your site:
For more information on using video at your dealership, please reach out to Doug Thompson at VehiclesTEST.com (954-629-2242) or visit his calendar to set up a demo with him.