At Digital Dealer in Las Vegas in early October 2022, a popular session was on TikTok. Ryan Copacia, the team lead for auto and travel on TikTok, showed dealers how TikTok users discover new and used vehicles for sale.
Copacia said that half of TikTok users say they discovered new products through ads on the platform. He said the platform is known for inspiring purchases organically, which makes it a powerful environment to get your brand discovered.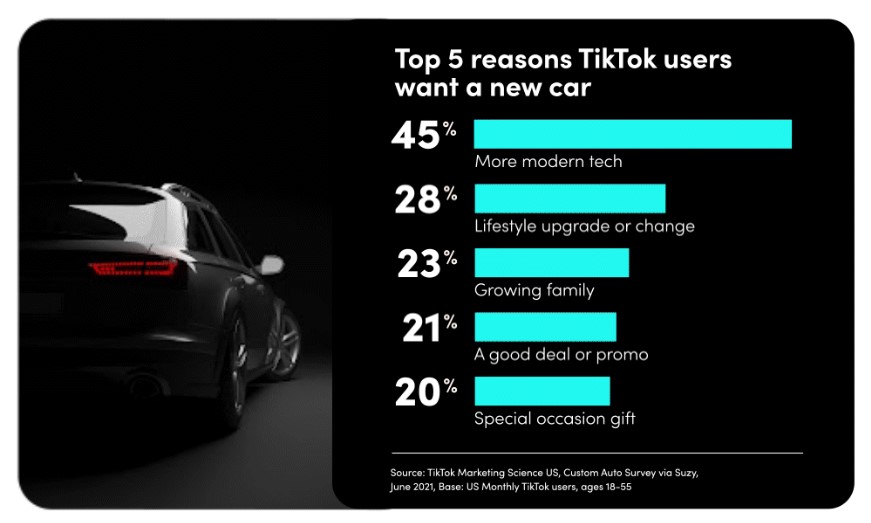 Copacia showed stats that claim TikTok is a huge untapped social market with over 110 million monthly active users and the third highest time spent daily in the U.S. (1.4 hours per day), falling only behind Online / Digital TV (3.1 hours per day).
To start using TikTok at your dealership, first sign up for a TikTok Business Account. Then by working with your sales contact at TikTok to get it verified. This will give you a verification badge, which is the blue checkmark that you see next to a profile's handle.
Verification assures TikTok users that your account is legitimate and belongs to your brand. Here is a link to learn more about TikTok business and automotive marketing.
Car buyers are shopping online more than ever. Don't miss out on sales because you are not using TikTok and other powerful video tools like VehiclesTEST's videos.
For more information on using video at your dealership, please reach out to Doug Thompson at VehiclesTEST.com (954-629-2242), or visit his calendar to set up a demo with him.