As the car-buying process continues to shift more online, Honda and Toyota dealers are working hard on the best way to perfect the process.
While the new technology and tools rolled about by Honda and Toyota corporate will help dealers address the financing and purchasing processes, what out there to enhance the experience of the car buyer?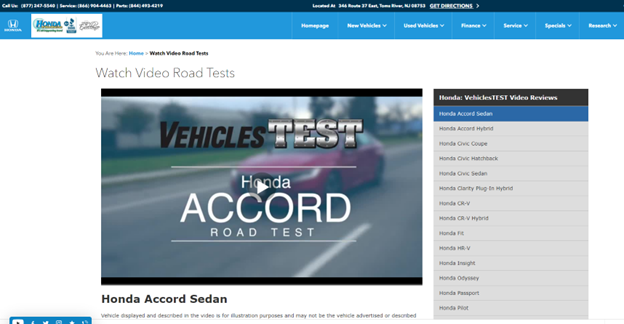 Online shopping means dealers need a digital showroom that instantly engages customers when they land on the website. The digital showroom helps them through the selection process and adequately reflects the brand experience.
For an immersive and educational online car-buying experience, videos are the answer.
For example, at
Honda of Toms River
the customer can watch any new model Honda in action using our VehiclesTEST video player. A lot of information can be conveyed in VehiclesTEST's third-party videos to capture consumers' emotions and attention.
At VehiclesTEST, we recommend creating a variety of video content for your digital showroom so that you can use it for more than one purpose. In addition to posting videos in your digital showroom, use them across all marketing channels including email, social media, digital ads and on third-party auto sites.
More and more customers are choosing to complete the entire car-buying process online. To have a chance to win their business, you'll need to explore solutions designed to deliver the best digital retailing experience to your customers — starting with a digital showroom.
For more information on using video at your dealership, please reach out to Doug Thompson at VehiclesTEST.com (954-629-2242), or visit his calendar to set up a demo with him.