Honda has released a video detailing its new interior design philosophy for its vehicles. The philosophy is titled "simplicity and 'something'" and it seeks to "enhance the driving experience by eliminating complexity and advancing the user experience through thoughtful and pleasing design elements."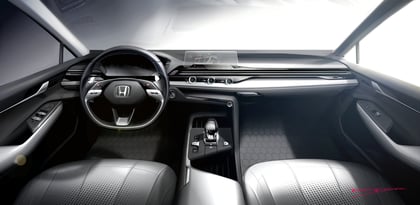 For years, Honda has focused on an idea it calls "Man Maximum/Machine Minimum" that seeks to lessen the space required for mechanical components in order to increase interior space for the driver and passengers. The new design philosophy expands on this idea by making the interior pillars thinner, the cowl lower, and the glass greenhouse larger for better visibility and a more open feeling. This photo shows the open concept and stying that harkens back to early days. Honda's designers say that they were inspired by old Honda vehicles and their simple, human-centered designs. At VehiclesTEST, we create third-party reviews on all the new Hondas, and dealers share the content with their customers. Here's an example on Metro Honda in New Jersey.
It's great to see an automaker taking note of the successes of their past and using them to design for the future. This writer has fond memories of riding in his grandmother's 1989 Honda Accord, and the carefully laid out and simple interior design it had. Photos of the new 2022 Civic's interior show that with this new "simplicity and 'something'" design philosophy, Honda has once again achieved a fantastic balance of form and function in its vehicle interiors.
For more information on using video at your dealership, on how to use Twitter or to set up a video blog, please reach out to Doug Thompson at VehiclesTEST.com (954-629-2242).