Video is a powerful force in today's shopping universe. Who isn't glued to their TV, computer screen or phone, especially when you are shopping for a new product. If you can see a product in motion, and have an editor or host tell you all about the features and benefits, then it's a win-win as far as using your time.
Video is an inbound marketing tool, because customers seek out this kind of content as they continue on the buyer's journey. For car dealers, the type of content that is both pleasing to the customer and effective as eliciting a sales lead is gold. We all know how powerful television is when you turn it on. It's also precise, a digital device that's right where the consumer wants to watch it.
Automotive dealers are using video to help customers in ways that contribute real value. How much time a customer spends on a dealer's website is important. The longer a consumer spends on a dealership website, the more likely they are to convert. And by convert we mean submit a sales lead or make a phone call to a salesperson.
Video content has moved from a nice to have, to a must-have for a General Manager of a car dealership. How you go about that strategy depends on your time and resources. For example, VehiclesTEST provides third-party video reviews on all the new Honda and Toyota models, for use on car dealership websites and in their sales emails.
See how Hoselton Toyota has successfully used Virtual Test Drives to help its customers.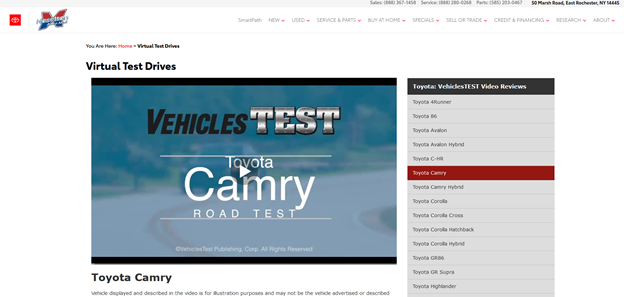 For more information on using video at your dealership, please reach out to Doug Thompson at VehiclesTEST.com (954-629-2242), or visit his calendar to set up a demo with him.