Toyota announced that it is using its motorsports activities in Japan to develop a hydrogen internal combustion engine. The engine will be used in a race car based on the Toyota Corolla Hatchback that will compete in Japan's Super Taikyu Series. This represents a big step for Toyota as it continues to pursue alternative fuels such as hydrogen to help reduce greenhouse gas emissions from motor vehicles.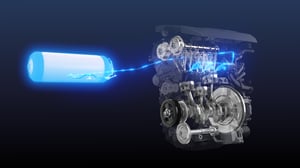 While the Toyota Mirai already uses hydrogen fuel cell technology, a hydrogen internal combustion engine (HICE) is much more similar to a conventional gasoline engine. With appropriate tuning a HICE can result in a virtually zero-carbon-emissions vehicle without having to convert the hydrogen into electrical energy and then drive an electric motor. A hydrogen internal combustion engine also maintains the sound, vibration, and feeling of a gasoline engine, which provides more enjoyment to the driver.
No plans have been announced to bring this technology to a production vehicle, but it is possible that this is a first step towards that goal. Toyota already has experience mitigating the unique safety issues of hydrogen power because it has produced and sold the Mirai for many years, so a production HICE vehicle is certainly feasible.
For more information on using video at your dealership, on how to use Twitter or to set up a video blog, please reach out to Doug Thompson at VehiclesTEST.com (954-629-2242).