Creating your own Honda or Toyota video content at the dealership can be both frustrating and time consuming. Unless you have a dedicated staff member solely committed to shooting and editing video, the chances are your store's video program will not perform up to expectations.
That's because salespeople often put video creation last on their list. While technology has made it a lot easier to create video, everyday sales, follow-ups and emails get in the way of shooting a video. The further behind a salesperson falls in creating content, the more difficult it becomes and finally, it's forgotten.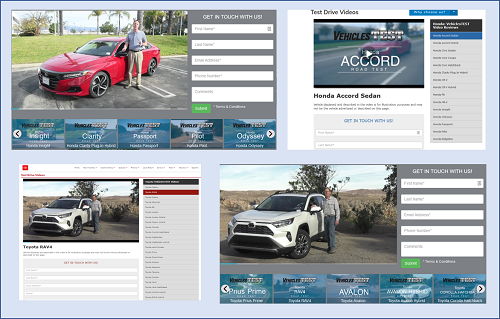 Watch this video by Flick Fusion's Lehel Reeves on whether or not to shoot your own video content or outsource it.
Outsourcing video creation and placement on your website is one way to solve the problem. There are a host of great lot service video production and photography companies that will shoot all of your Used Car inventory. Once you have the photos, at VehiclesTEST we can take those photos and create beautiful frame-by-frame videos of the vehicle for the consumer to watch.
For new cars, VehiclesTEST's Honda and Toyota video road tests can be mapped to your new SRP and VDP pages for consumers to watch 24/7.
Watch any Honda video review on Metro Honda website: https://www.mymetrohonda.com/test-drive-videos/
Watch any Toyota video review on Toyota of Dallas' website: https://www.toyotaofdallas.com/virtual-test-drives.htm
If you would like to add VehiclesTEST's third-party Honda and Toyota Virtual Test Drives to your website and emails, please reach out to Doug Thompson at 954-629-2242. Learn more about VehiclesTEST.com