With limited vehicles in new inventory at many dealerships, the need to visit the actual store location has diminished over the past two years. While some customers may visit the store to look at a used car that caught their eye, and then take a look at a new one, the vast majority are shopping online.
Many dealers see video as one component of providing a well-rounded user experience for their customers. Dealers keep in mind that, first and foremost, they are a car dealer. People come to dealerships or visit the dealership's website primarily because they want to buy a car.
Providing the best shopping tools, online and on the lot, gives a salesperson the best chance to make the sale. These tools include inventory search and discovery, vehicle photos, easy ways to contact the dealer, and negotiating tools.
Video has its place, but only if it supports the basics mentioned above. One video tool top dealerships use to enhance their customer experience is VehiclesTEST's virtual test drives. These third-party videos on the search result pages increase time on site and enhance the effectiveness of conversion tools. Dealer analytics show that these videos are being viewed. In addition to providing good information to car shoppers, the videos add stickiness to our search result pages.
See how Hoselton Toyota has successfully used Virtual Test Drives to help its customers.
https://www.hoseltontoyota.com/virtual-test-drives/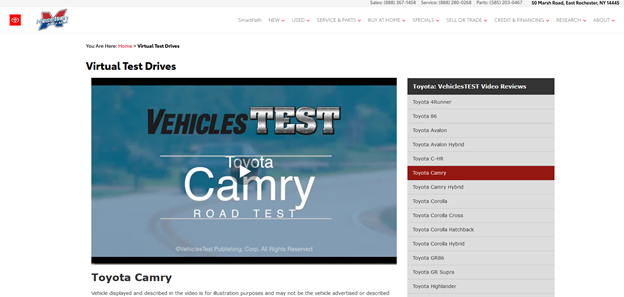 Another successful way dealers integrate videos includes the model-specific landing pages. These pages include VehicleTEST videos, local SEO text, links to new and used inventory, and model-specific search results. These pages rank high in SERPs and help dealers compete with inventory aggregators like CarGurus, AutoTrader and Cars.com for local, model-specific key terms.
For more information on using video at your dealership, please reach out to Doug Thompson at VehiclesTEST.com (954-629-2242), or visit his calendar to set up a demo with him.