Your VDPs (Vehicle Detail Pages) are where most customer-decision making takes place on your dealership's website. The strength of the video, photos and information on this page helps educate and influence the buyer.
Leading VDPs combine strong visuals like video and photos and accurate content. Effective call-to-action that drives the customer to reach you, along with useful tools like trade-in evaluators, provide a wide range of options.
Buyers want information provided in a simple, easy-to-digest way. The most critical information should appear above the fold, and because more than 60% of automotive traffic comes from mobile devices, dealers shouldn't neglect how the VDPs display on a smartphone.
High-quality videos and imagery are crucial. In fact, 80% of customers who browsed for vehicles online think that offering video on a website reflects well on the dealer's reputation. And when you watch a video, you retain 95 percent of that information, versus the 10 percent your brain retains when reading. Using video is one of the most powerful tools in today's automotive industry.
At VehiclesTEST we know creating video can be overwhelming and daunting. Let us help you get into the video game right away with our new model Honda [https://www.vandergriffhonda.com/virtual-test-drives.htm] and Toyota [https://www.vandergrifftoyota.com/virtual-test-drives.htm] Virtual Test Drives.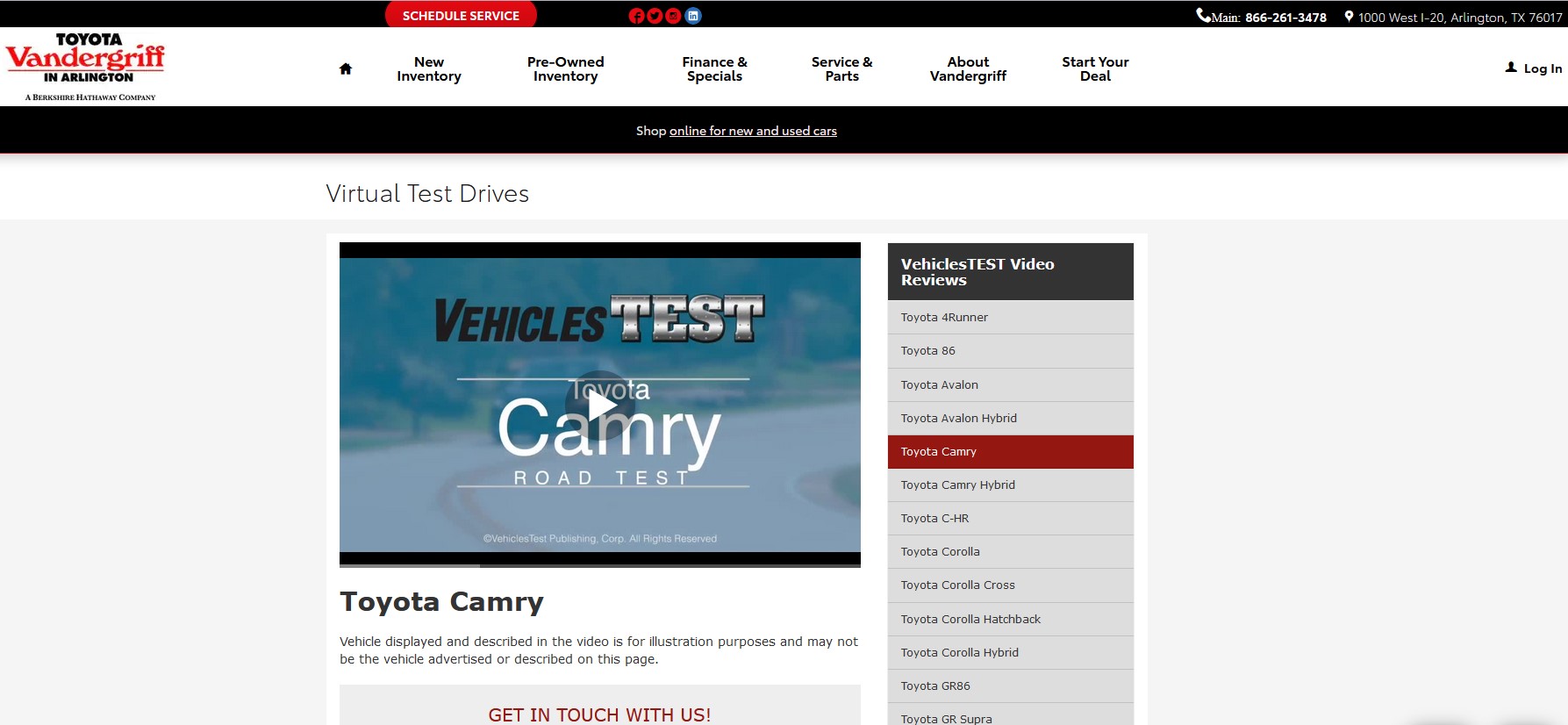 We have you covered with no work on your part. And for your Used inventory, we can take you lot photos and create engaging, information-rich videos for your website and third-party websites like AutoTrader and Cars.com.
Video connects salespeople with leads and customers. For more information on using video at your dealership, please reach out to Doug Thompson at VehiclesTEST.com (954-629-2242), or visit his calendar to set up a demo with him.